————————————————————————————————-
NYIRAGONGO VOLCANO: Informations about last eruption of 22th May 2021
https://georiska.africamuseum.be/fr/news/nyiragongo_eruption
—————————————————————————————————
Welcome to the scientific web platform dedicated to the distribution of scientific information on the active volcanoes of the Virunga Volcanic Province, in Central Africa.
Virunga-volcanoes.org is managed by a Belgian-Luxembourgian (BeLux) scientific consortium having a long-standing and multidisciplinary expertise in the study of the Virunga volcanoes. On this website, you will find everything you need about the past and recent eruptive activity of the Virunga volcanoes, and more specifically on the highly active Nyiragongo and Nyamulagira.
---
Want to help us?
You went there or plan to go there ?
Your pictures from the Nyiragongo lava lake are also of scientific interest.
Night and day views, close up of the lava lake or the whole crater: what ever you have could help us if provided with an accurate date (and time if possible).
Please send us you JPG by e-mail (not zipped) at
virunga-volcanoes@ecgs.lu
That would be fantastic, thanks a lot !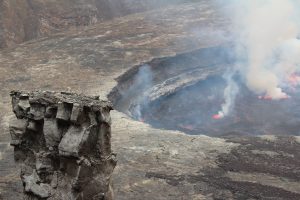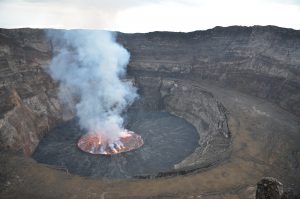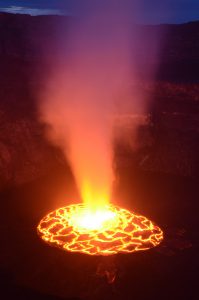 ---
Site map
The News menu provides the latest news and activity reports on the Virunga volcanoes.
The Near Real-Time Monitoring and Current Activity menus show, in near real-time and through activity reports, the volcanic activity of Nyiragongo and Nyamulagira.
The Volcanoes menu provides general information on the Virunga volcanoes and the related natural hazards.
The Data & Documentation menu is a unique source of detailed information on the Virunga volcanoes. This menu includes, or will include soon, Photos and Videos, thematic lists of bibliographic references, open-access documentation, information on past and on-going research projects, freely available data (maps, GIS data, databases, etc.) and photos and videos acquired by the BeLux consortium during field missions.
The provide you with amazing images taken during field trips in the Virunga region.
The Contact menu provides the required information about the BeLux Consortium, Goma Volcano Observatory and scientific experts of the Virunga volcanoes.